Ingress APK Teardown [1.71.1]
Welcome back to another Ingress teardown. After skipping 1.70.0, we are back with 1.71.1. This version is currently on a 1% rollout to a Play Store near you. Assuming no errors crop up for those already on it, this version should reach the rest of you in the next few days. Like usual, we can peek into the APK and see what is hidden away. So lets dig into 1.71.1.
Updated Mission UI & More
The missions component has gotten a minor UI update. The first change was noticed in the mission list.
As you can see from the above image, we have gained a new metric. The distance from the start portal was added. This should prove to be helpful to know which mission you can start when in unknown territories.
This next part of information will not be visible for everyone. These changes rely on the new handshake value
"enableMissionsStartPoints": 0
If enabled, upon visiting a portal you will find a new button
This button is quite unique. Clicking this button will reveal a screen that show all missions that start at that portal. An example below
On top of these changes you will notice additional icons and tweaked colors for the mission portion of the UI. This information was obtained from the addition of many UI classes.
 missions-back-button
 missions-list-horizontal-separator
 missions-highlighted
 missions-list-item-title-highlighted
 missions-list-item-nearby-missions

Shonin Fragments (Shards)
We've had Recursion Artifacts, Jarvis Shards & Helios Artifacts. Now we welcome 31 Shonin Stones to the mix.
artifact_frozen_shonin_fragment_[1-31].obj
artifact_shonin_fragment_[1-31].obj
We know via the artifact_shonin.png file that these appear to be blue. Also, Daniel Benton, below has visualized them for us.
https://plus.google.com/116052404970261244915/posts/5d2zGSgWivR
How these artifacts will work or why there are 31 of them, we don't know. Watch for an Ingress update probably during this weeks Ingress Report.
Boost Recharge
We saw new handshake values of
"enableBoostRecharge": 0,
"boostRechargeResonatorsCost": 10000

This value is not yet enabled, but we took it for a spin anyway. As noted above, holding the button down (Much like glyph hacking) will result in a boosted recharge. Based on the values added to the handshake we know it will cost 10,000 XM to do so.
So we know this feature won't be available for any agent under Level 8 as they can't even hold 10,000 XM at a single time. We don't know anymore specifics at this point, so we will have to wait for another version.
Active Mode
As discussed in 1.65.0, 1.66.0 and 1.68.0 teardowns. Wearable support is coming with this neat feature called "Active Mode", which will run in the background and notify you of related Ingress activities. The setting was released in this version, so we can identify the exact description intended for such a feature.
<string name="ACTIVE_MODE_SETTING_DESCRIPTION">Notify me of nearby Portals and Ingress activity.</string>

After enabling you will receive a new little icon on your status bar.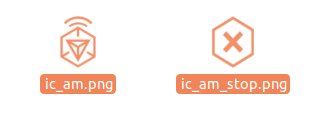 To help identify that your phone/watch are actively looking for Ingress activity, even if you don't have the application in the foreground.
Mod Destroyed
This update also included a little more interesting animation for when a mod is destroyed. Check out the image below.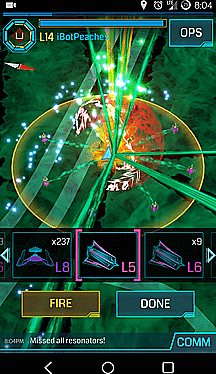 Conclusion
A lot more development than we've had the past few weeks. This version was built on Feb 20 and found us on Feb 23. With only 3 days between building the APK and it being released, development is very much active. Looking forward to the upcoming changes and how Shonin stones will play into the anomalies. We will be back on the next version for another teardown.
Thanks
Roberto – Screenshots of some features
Dean – GIF of new mod destroyed animation
Daniel Benton – Visualizing the Shonin shards
Jack – APK