Ingress Year Six Events
Happy Birthday Ingress!
Ingress has turned 6 years old and in the birthday live-stream, on November 16th, we were given a teaser on a few Upcoming Events you can look forward to, along with a preview of the upcoming year six badge! We will be updating this article as more details come out about these events hopefully soon.
Year Six Event
Every year, Niantic likes to commemorate the birth of Ingress by throwing an AP event with a few special perks. They do this to encourage agents to level up because at the end of the event, you gain a badge with tiers based on your current level. This year's celebration is already in progress and ends on 26th of November at 18:00 UTC.
Niantic announced that agents can currently deploy two L7 and L8 Resonators per portal and fully deploy all 4 Mod slots by themselves.  The 5 minute cool down time between hacks has also decreased to 3 minutes.
Tier requirements
Bronze Medal: Level 3 – Level 8
Silver Medal: Level 9 – Level 12
Gold Medal: Level 13 & 14
Platinum Medal: Level 15
Onyx Medal: Level 16 or Recursed
To clarify for Onyx. It is rewarded to anyone that gets level 16. If you choose to recurse you will not lose your ability to gain Onyx. 
Deploy and Destroy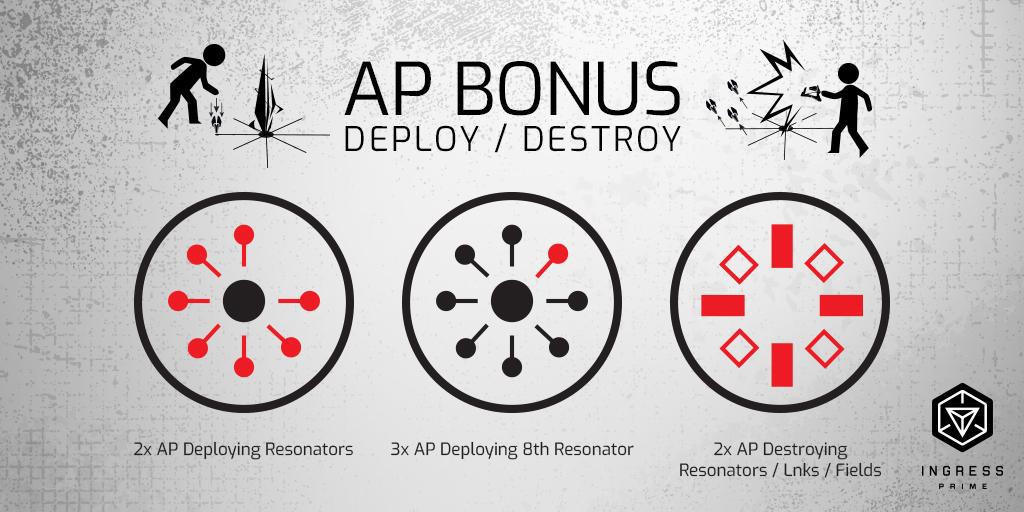 This event willing be starting on Dec 6th (1800 UTC) and ending on December 10th at 1800 UTC. The event is pretty self explanatory, the goal will be to deploy and destroy portals by yourself. This comes with a nice AP bonus for all of your hard work.
Ap bonus's
2x bonus when you deploy 1-7 resonators on a portal.
3x bonus when you deploy the last resonator.
3x bonus for destruction of every resonator.
2x bonus for the destruction of a link.
2x bonus for the destruction of a field.
More details and clarification will likely come soon on this event.
Global MU Cross Faction Challenge
The date of this has not been released, but it is expected to happen before the end of the year!
If the factions can get to a certain point of global MU then certain special things get unlocked. What will be unlocked has not been said and the goals have not been released but it is clear this is a Cross Faction Event. So, be prepared with your best cross faction friends and maybe start planning a bit ahead.
November Glyph Challenge
In a surprise announcement after the live-stream a few days ago, Niantic has released a glyph challenge for November. Agents will have between November 23-25th to create and post their glyph art!
This months Glyph challenge is Pure! 
December Glyph Challenge
The date has not been released on this, but it is expected to happen at the beginning of December like most of the Glyph Challenges. There is no official announcement on this Glyph other than the live-stream, so it is subject to change. If it does change, we will be updating this post.
Decembers Glyph challenge is Harmony! (Yes, it is the same glyph for Peace too)
If you have not participated in these Glyph Challenges, I would highly suggest you do. The reward for them is a decently sized passcode that you can share with 19 other agents. All you have to do is create theses glyphs in some form of art, normally field art, and use #glyphchallenge in your social media post on it during their allotted time frames. The more creative you get, the more likely you will get a passcode for this challenge. Niantic chooses the top 50 exceptional works of art to be rewarded with these passcodes and these challenges happen monthly to allow everyone a chance to win.
As soon as we have more information on each of these events, we will gladly update you. Image sources for this post are all from Niantic and the Glyphtionary.